Svetovni dan ekološkega dolga je 28. julij
28. julij je letošnji svetovni dan ekološkega dolga. To je datum, do katerega potrebe človeštva po naravnih virih in storitvah presegajo zmožnost njihove regeneracije. Presežek porabe se kaže predvsem v izčrpavanju naravnih virov in prekomernih izpustih toplogrednih plinov. Posledice tega se že kažejo tudi z vse bolj očitnimi podnebnimi spremembami. Letošnji dan ekološkega (tudi okoljskega) dolga je 2 dni pred lanskim in enak kot leta 2018. To je tudi najzgodnejši dan ekološkega dolga v zgodovini.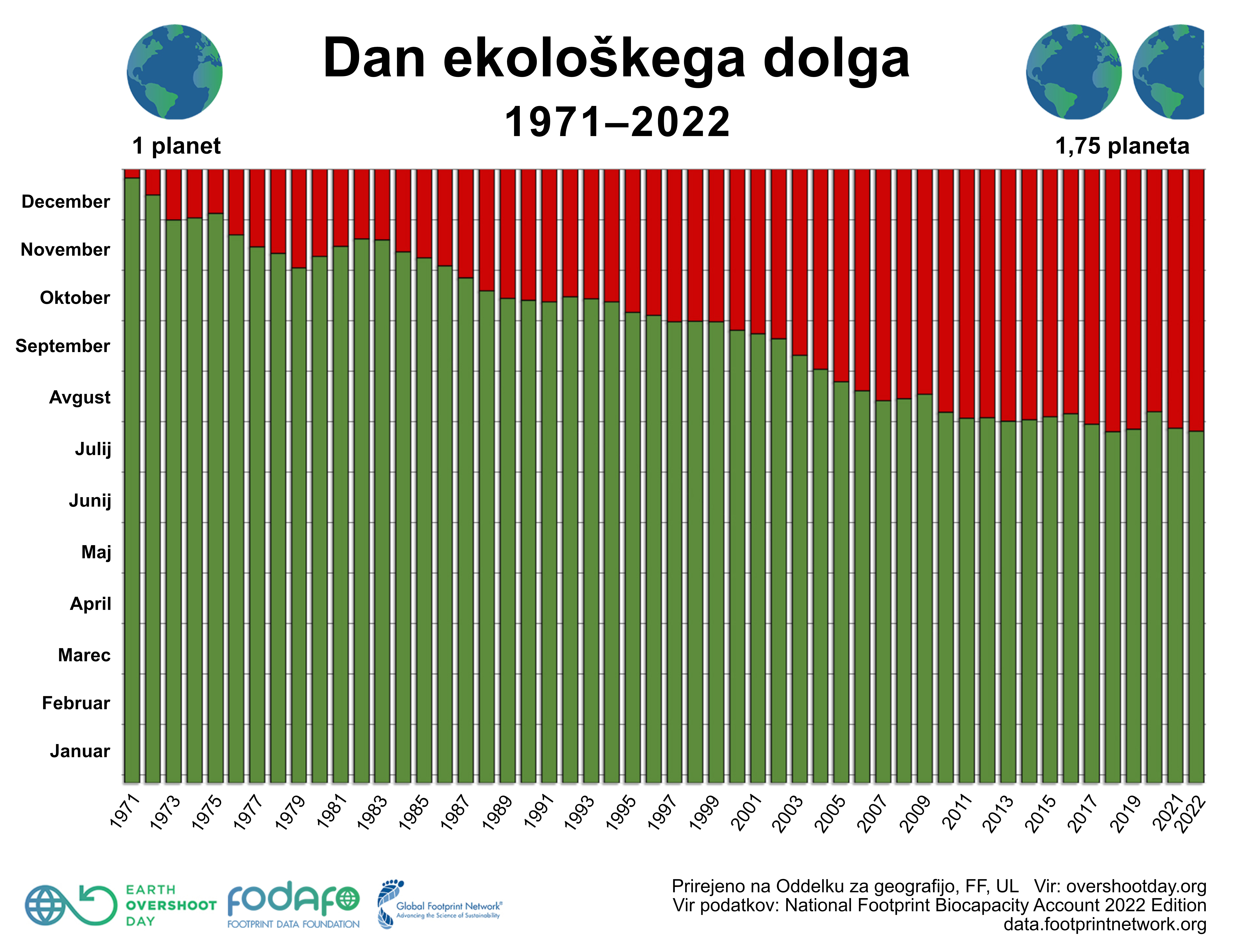 Vsaka država ima drugačen ekološki odtis, ki izhaja iz obsega biološko produktivnih kopenskih in vodnih površin, potrebnih za proizvodnjo porabljenih virov, umestitev infrastrukture in absorpcijo proizvedenih odpadnih snovi. Ekološki odtis tako ponazarja površino, ki jo prebivalstvo potrebuje za ohranjanje svojega načina življenja. Če bi vsi Zemljani živeli kot Slovenci, bi za zadovoljitev potreb potrebovali zmogljivosti kar 3,4 Zemlje, kar pomeni, da bi dan ekološkega dolga dosegli že 18. aprila. To nas uvršča na 28. mesto po porabi virov in je primerljivo z Norveško, Malto in Irsko. Največji ekološki odtis na prebivalca imata Katar in Luksemburg, najmanjšega pa Haiti in Jemen.
Kdaj bi dosegli osebni dan ekološkega dolga lahko preverite s pomočjo kalkulatorja ekološkega odtisa: https://izo.si/izracunaj-ekoloski-odtis/.